Give Golf a Go!
Affordable and accessible membership for juniors
Group and individual lessons
Friendship, fun and healthy exercise all in a safe environment
Further information on our Annual subscription rates for juniors.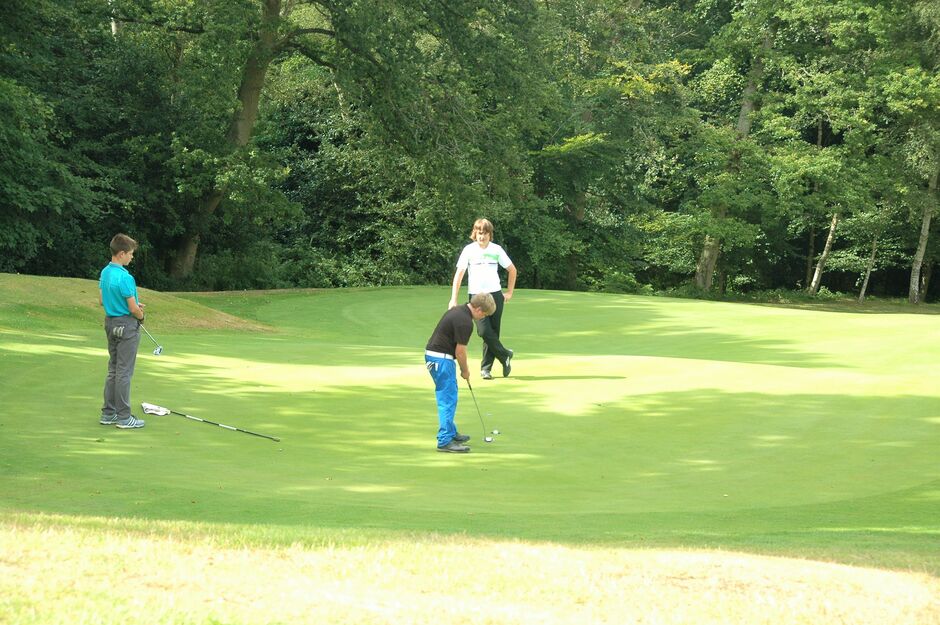 Our golf club has an ideal programme to encourage children to enjoy golf
For many, golf is perceived as the sport for a privileged few and mainly for middle aged adults. Fortunately, golf now has significant role models, who started playing golf at a young age and, supported by their families and local golf clubs, grew to become world superstars. Rory McIlroy, Tiger Woods, Charlie Hull, Michelle Wie were all keen competitors aged 9 or even younger. So, it is never too early to start learning and enjoying our great sport.
Here at our club, we can offer several options for youngsters to explore the game of golf and perhaps go on to represent their club, their county and even their country. Although many will simply enjoy all the other many benefits playing golf brings, lifelong friendships, exploring different courses, healthy exercise and learning important life skills.
Our Club has been awarded High Achiever Status by Golf Mark
Sponsored by England Golf and approved by the Sports Council, Golf Mark assures parents that their children can safely enjoy their introduction to golf via structured teaching programmes offered by highly trained golf professionals. All the courses combine an element of fun with technical advice and at the appropriate time competitions are introduced.
Group Junior coaching sessions at Leighton Buzzard Golf Club
Every Sunday, we hold lessons for juniors from beginners upward, for both boys and girls aged 5-17 years. (during the summer there are some coaching dates on Tuesdays at 5pm – check with the Pro Shop for availability on 01525 244815)
There are normally 2 sessions, 11am-12pm and 12pm-1pm.
Group size of X10 Juniors per session
Clubs (if needed) and balls are provided
Only £10 for 5 lessons
All our staff have attained DBS Certification
We take the safeguarding of our Junior members and visitors very seriously.
To speak to someone in complete confidence regarding a safeguarding issue or concern, please refer to section 7 - Useful Contacts (page 16) of the Club's Safeguarding Policy.
Enquire about membership or better still call 01525 244800 or email office@lbgc.co.uk and speak to one of the team.